I spent my early life living in a French Canadian city. It was a wonderful place, but it had strict language laws. Billboards, posters, signs – all were in French. When there was English, the words were given significantly less prominence than their French equivalent.
When entering stores, restaurants, coffee shops and offices  – every greeting began with "Bonjour", not "Hello".This was the norm. It was all I knew. It had no negative impact on me  – that I was aware.
Then I moved and everything changed.
Suddenly I was in an environment where bus boards, billboards, store signs, traffic signs, posters, flyers, brochures, people from government workers to gelato servers  – all "spoke" me  and it felt good!
Actually, it felt great – I mattered!
Until then I hadn't realized how damaging  "not being addressed" (or rather, being neglected) was to my self-esteem and spirit. It's just not a healthy way to treat another human being.
Yoo hoo!
And yet…here we are.
Women over 40 face some degree of being overlooked every single day. By the time they're in their 50's, they  face it to a much larger degree and begin to feel its negative impact. Women over 60 start getting used to it, however dispiriting. Women over 70 and 80 don't even notice anymore. Why would they? Years of neglect becomes their norm.
I was in line at Gap the other day. Four tills were open. There was a young couple at one. At each of the other tills, three middle aged women stood with purchases in hand.
And yet…
Behind each of these tills were four posters: a white girl, an Asian girl, a white boy and an African American boy – all in their 20's.
So much for diversity. So much for connecting with your customers.
Gap isn't the only culprit (to be fair, they used 63-year old Anjelica Huston in one of their ad campaigns, I just wished it had carried through to the store where I spend money, but alas). Even Lululemon, which brilliantly turned "hippy yoga" into a trend, ignores older women even though they make up a large portion of yoga enthusiasts.
I picked up "the" fall Vogue and saw one older model – Jessica Lang, perfectly photoshopped.
As usual, none of the ads catered to me. However, this year, I put the magazine right back down, turned on my runners, and left the store with my head high with defiant dignity (that's right Vogue, you can charge over $100,000 for an page, but you're not getting my $10…you've been soooo dissed)
All to say that a major demographic is overlooked on a daily basis in North America and by the very brands that take our money.
Dear brands: You pay attention, we pay money. Deal?
And yet…
According to an article Business Insider, women 45 years old spend $750 billion annually on clothes. If you look at this screen shot I took from the article, even though women in their 20's figure most prominently on fashion ads, they actually don't spend any more on clothes than women in their 70's.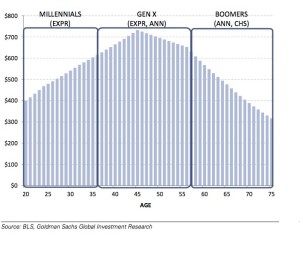 What's more, a recent article in Adweek says, "Worldwide, consumers over 50 spent more than $8 trillion in 2010; in 2020, that is projected to rise to $15 trillion."
Read the uplifting article here.
So why aren't over 40's showing up in more ads? Why are so many brands happy to be paid by us even though they don't pay us the slightest attention?
The good news is that some brands are beginning to recognize our worth – and they're being rewarded for it.
When Celine used 80-year old author, Joan Didion, in its print campaigns, they went viral.
Other luxury brands like St. Laurent, Louis Vuitton and Kate Spade have followed suit. Even mid-income brands have joined in – from L'Oreal using Helen Mirren and Twiggy – to American Apparel featuring then-unknown 62-year old Jacky O'Shaughnessey in their campaigns.
We have a long way to go before using older models goes from "maverick" to mainstream. So, for my part, I'll support those brands that represent me more often than those that don't.
I'll also keep noticing the inequity and pointing it out in this blog so that we can catch the neglect and hopefully become a bigger, stronger and more powerful voice in stopping it. Like the blog? Then like the Facebook page!