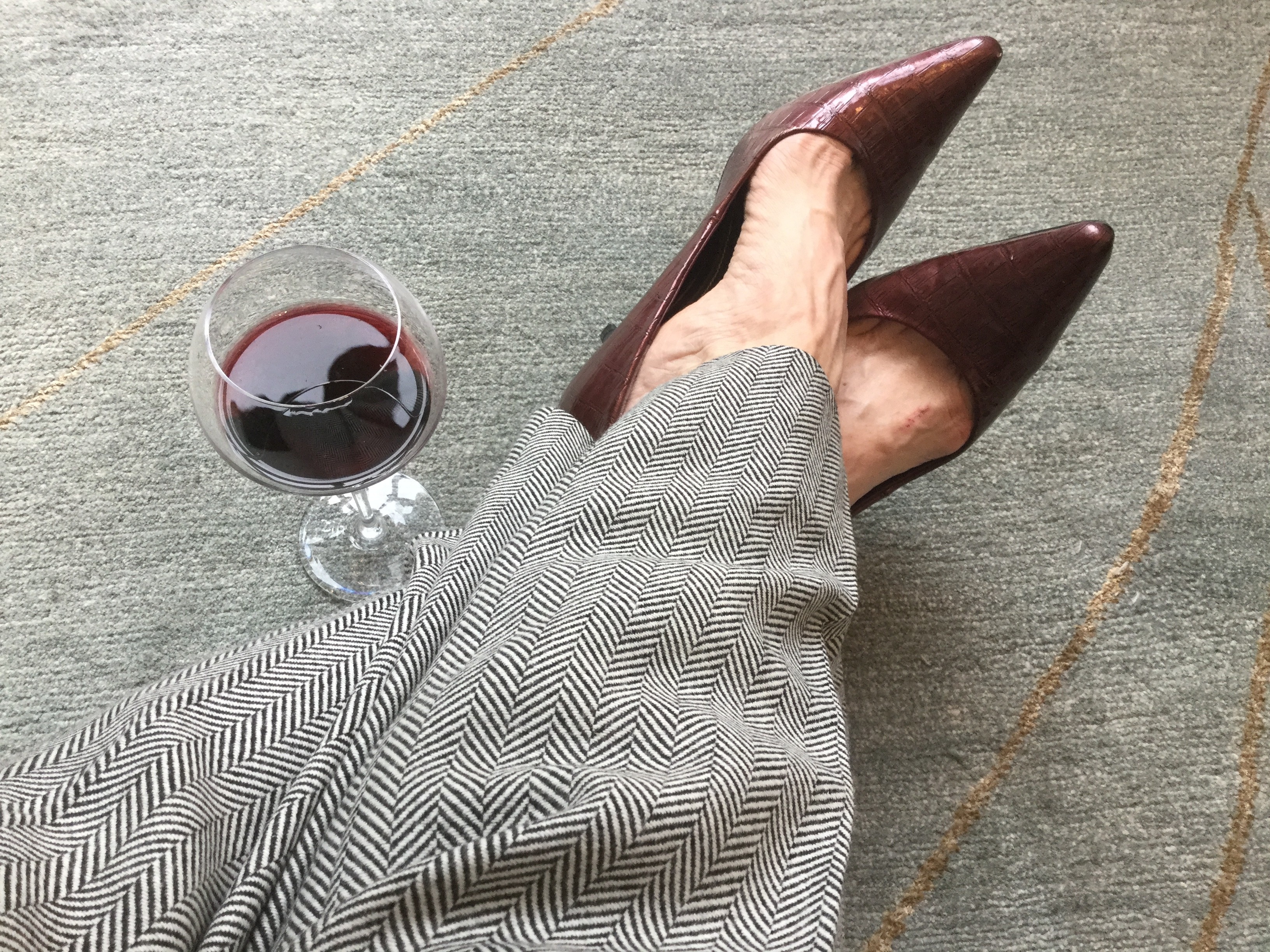 The dramatic effect of grey on middle-aged women.
The other day I ran into a neighbor who 1) saw me 2) gasped 3) stared 4) blurted, "Your hair!" then 5) stared some more. Silence does not begin to describe a message quite so loud.
"I chopped it all off", I said laughingly, "It's okay not to like it, you know."
"No, the cut's cute", she said, "but… the gray!"
I didn't know what I took issue with more: that I'd gone from long, straight brunette hair to a short messy crop and all she could say was "but the grey", or the fact that I had paid several hundred dollars for what were meant to be streaks of lavender locks intermingled with (said) brown.
Truthfully both.
However, for the purpose of this blog, I'll stick with the fact that grey hair (which, again, not to be picky – was a prrreeeetttty fine shade of lavender) would cause a stroke (face dropping, difficulty speaking)  in a woman who, like me, is middle-aged.
What's up with that?
Granted, this is a woman who's horrified of aging. She maintains her girlish figure by throwing up food. She dyes her roots before they even peek over her cranium. She also injects Botox into her forehead with all the overcompensation of an introvert who injects nervous laughter into a conversation.
Yet, even though she's immeasurably high on the crazy meter of Gerontophobia (love new words!), she's not alone. How many of us resist turning grey because it will…dare I say it…age us?
Why is that so bad? When did this happen? How come it's hip to have silver hair in your 20's, but old when you're over 40? Why is old looking equivalent to bad looking? Why is grey more acceptable on men than on women?
Why can't women age with pride and acceptance from within – and out?
So many questions. So many objections.
I know two women who actually asked their husbands' permission to go grey. I understand wanting a man's opinion. I myself tried asking a gay male friend about a hair style I was considering . His answer? A long pause and, "You know I'm not that kind of gay, right?"
Right.
Anyway, I can appreciate asking a man, especially your romantic partner, about whether or not he thinks a certain look has sex appeal. But to ask permission and, specifically, to ask permission to be your natural self?
Geez.
The other day I was at the hair salon getting my lavender hair fixed (okay, fine, maybe it did look grey) when I overheard a middle aged stylist telling his elderly client that her white hair was aging her. Actually it wasn't. The fact that she was in her 70's aged her and that's okay.
Age is okay. The signs of aging are okay. There are some gorgeous greys out there, as well as stunning whites. They won't age you. What will age you is society's perception of age, which frankly, is getting old.
Honestly, I myself am not ready for grey yet. I'm not ready for the dignity and maturity – or ageism – that comes with. I love playing with my hair and realized lately that I've missed the days where I'd chop, streak, spike and have fun with it. I'm probably too old to being doing this. That is, according to society. According to me, I'm old enough to do what I want.
If you like the blog, you'll like the Facebook page. It's a great place to find posts that are everything from fun to uplifting and, sometimes, invaluably annoying!